NRA Personal Protection Inside the Home Shooting Class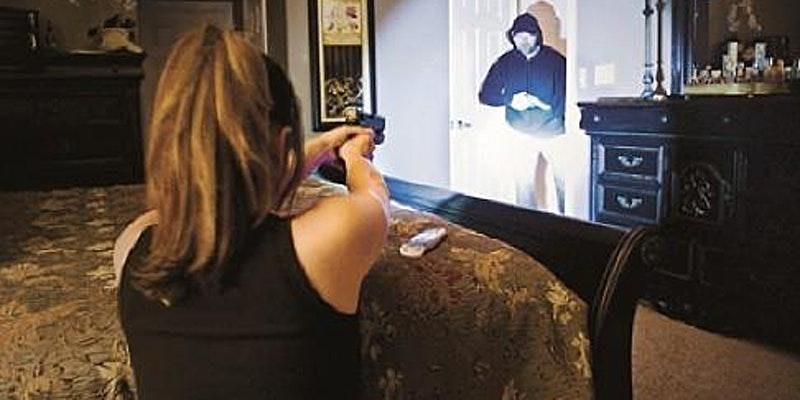 Our firearms training courses are open to the public.
Learn the safe and efficient use of a handgun for protection of self and family, and the individual's rights to self defense.
This class teaches the basic knowledge, skills, and attitude essential to the safe and efficient use of a handgun for protection of self and family, and to provide information on the law-abiding individual's right to self-defense.
This is an eight-hour course. Students should expect to shoot approximately 150 rounds of ammunition. Students will learn basic defensive shooting skills, strategies for home safety and responding to a violent confrontation, firearms and the law, how to choose a handgun for self-defense, and continued opportunities for skill development.
Lesson III of this course: Firearms and the Law, and Legal Aspects of Self-Defense, is conducted by an attorney licensed to practice law within the state of California.
Students will receive the NRA Guide to the Basics of Personal Protection In The Home handbook, NRA Gun Safety Rules brochure and the NRA Marksmanship Qualification booklet.
Upon successful completion, a course certificate will be issued
This class is taught by NRA Certified Instructors and an Attorney licensed to practice in the state of California.
Required Equipment
Handgun – Semi-Automatic or Revolver
150 Rounds of Factory New Ammunition (No Reloads or Steel Core)
3 magazines or speed-loaders
Quality Belt and Holster (No Nylon or any holster that collapses on itself)
Eye & Ear Protection (Electronic Hearing Protection Preferred)
Pencil, Pen, Highlighter and note pad
Attire
Closed toed shoes are required
No scoop neck or V-neck shirts are allowed
Bring a baseball style hat
Lunch
Bring a sack lunch for day two. There is not enough time to leave and purchase lunch. We provide bottled water at no charge. Sodas and snacks are available for .50 each. We have a microwave available.
Prerequisite
Prospective participants can demonstrate that they have the requisite knowledge, skills, and attitudes by producing an NRA Basic Pistol Course Certificate, NRA FIRST Steps Course Certificate, NRA pistol competitive shooting qualification card, military DD 214 with pistol qualification, or passing the Pre-Course Assessment with the instructor prior to the class.
NO FIREARMS OR AMMUNITION ARE ALLOWED IN THE CLASSROOM. THIS INCLUDES CCW and LEO. NO EXCEPTIONS! Leave your firearm and ammunition secured in your locked vehicle until an instructor directs you to retrieve it.
California law requires you to transport your firearm in a locked case.
This class is for law-abiding citizens, as defined by applicable federal, state or local laws.
If you have any questions or concerns, please email us at avgctraining@gmail.com
Online registration only.  No walk-ins will be allowed.