NRA Basics of Shotgun Shooting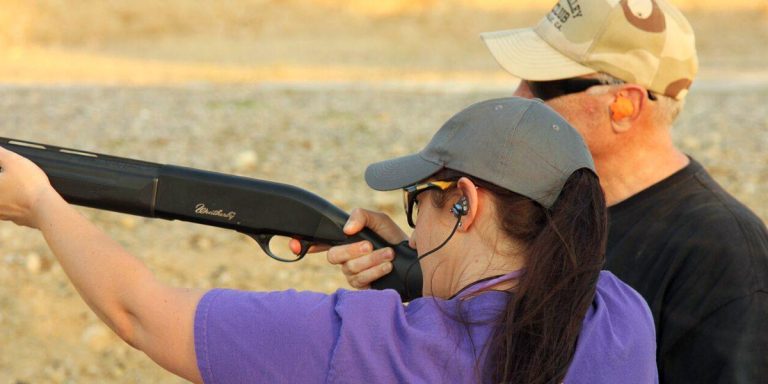 Our firearms training courses are open to the public.
This course takes place over two days.  You must attend both days to complete the class.
This course is taught by NRA Certified Instructors and includes classroom and range time. You will learn how to shoot shotguns at a moving target. Students learn the NRA's rules for safe gun handling, shotgun parts and operation, shotgun shell components, malfunctions, shooting fundamentals, care and cleaning of your shotgun.
Students will receive the NRA Basics of Shotgun Shooting textbook, NRA Gun Safety Rules card, NRA Marksmanship Qualification booklet.
You will receive an NRA Basics of Shotgun Shooting certificate at successful completion of this course.
Required Equipment
Shotgun
4 boxes of shotgun shells in 7.5 or 8 for your shotgun (No reloads)
Eye and ear protection
Notepad, pen and pencil
Loaner shotguns are available. If you would like to use a loaner shotgun or have further questions please contact the Training Team: avgctraining@gmail.com.
Attire
Closed toed shoes are required

No scoop neck or V-neck shirts are allowed

Bring a baseball style hat
Lunch
You should pack a lunch for day two. Snacks and sodas are available for .50 each. We provide bottled water free of charge. We do have a microwave available.
NO FIREARMS OR AMMUNITION ARE ALLOWED IN THE CLASSROOM. THIS INCLUDES CCW and LEO. NO EXCEPTIONS! Leave your firearm and ammunition secured in your locked vehicle until an instructor directs you to retrieve it. 
California law requires you to transport your firearm in a locked case.
This class is for law-abiding citizens, as defined by applicable federal, state or local laws.
If you have any questions or concerns, please email us at avgctraining@gmail.com
Online registration only.  No walk-ins will be allowed.