Beyond the Basics of Pistol Shooting

If you have recently successfully completed an NRA Basics of Pistol Shooting Class at Apple Valley Gun Club in the past year, this follow up class is for you!
All AVGC firearms training classes and matches are open to the public.

The gate will be unlocked and open when you arrive and will be locked shortly after the event or class starts.
Please arrive on time or early.
---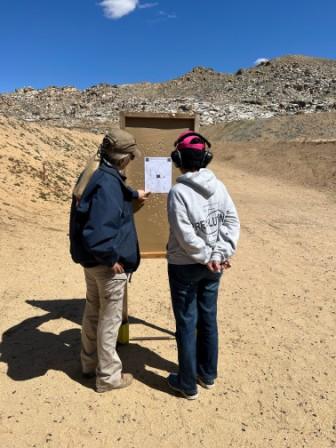 This Beyond The Basics Class will allow you to have the time to shoot and utilize the skills you just learned.
You will have an NRA Certified Instructor or Coach with you for the entire class who will help you gain more confidence while you practice and hone your skills. You will get 2+ hours of shooting at various targets using some fast and some slow drills. You will learn to shoot single-handed and off-handed.
What to Bring

Handgun
2 magazines (or speedloaders if shooting a revolver)
250 rounds of ammunition
Eye Protection
Ear Protection (electronic preferred)
A Positive Attitude
A copy of your NRA Basics of Pistol Shooting Certificate of Completion
Class size is limited so register ASAP to reserve your spot.
If you received an invitational email your discount/promotional code is found in that email.
Please email Wendy with any questions or concerns: Wendystephens@msn.com
NO FIREARMS OR AMMUNITION ARE ALLOWED IN THE CLASSROOM. THIS INCLUDES CCW and LEO. NO EXCEPTIONS! Leave your firearm and ammunition secured in your locked vehicle until an instructor directs you to retrieve it.
California law requires you to transport your firearm UNLOADED in a locked case.
Classes, training and/or certification are for individuals who are not disqualified from possessing a firearm as defined by applicable federal, state or local laws.  Individuals who have been convicted of a crime of violence are disqualified.  Student must be a U.S. Citizen or Legal Resident with a Green Card in compliance with U.S. Federal ITAR Regulations.
Online registration only.  No walk-ins will be allowed.
If you have any questions or concerns, please email us at avgctraining@gmail.com